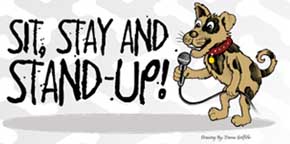 Hosted by Jimi Celeste,
Featuring Performances By...
(LINEUP SUBJECT TO CHANGE)
DAVE ATTELL
COMDEY CENTRAL'S "INSOMNIAC WITH DAVE ATTELL"
RICH VOS
NBC TV'S "LAST COMIC STANDING"
JESSICA KIRSON
NBC TV'S " THE TONIGHT SHOW WITH JAY LENO"
COREY KAHANEY
NBC TV'S "LAST COMIC STANDING"
WIL SYLVINCE
JAMIE FOXX'S "LAFFAPALOOZA"

---

MUSICAL GUEST
"THE CROWN ROYALS"
MUSICAL DIRECTOR ADAM ROTH
"Sit, Stay and Stand-Up" is dedicated to getting people to bring the best 24/7 comedian into their home. A dog or cat provides endless hours of laugher, enjoyment and love! What better pet to bring into your life than a rescue? An animal that needs you as much as you need them. The Humane Society and Mighty Mutts save hundreds of animals each year and they need yoru support.
The stand-up community is "standing-up" to help. Your donation for an evening of laughter helps them to help us.
---
Monday, June 4th, 2007
6 pm- Cocktail Reception/ 7 pm -Show
---
$40 - Advanced Tickets/ $50 Door Tickets
Tickets are available online at www.ComixNY.com
or by calling the Comix box office at (212) 524-2500
---
353 West 14th Street, New York, NY 10014