A Purrfect home for a Positive Cat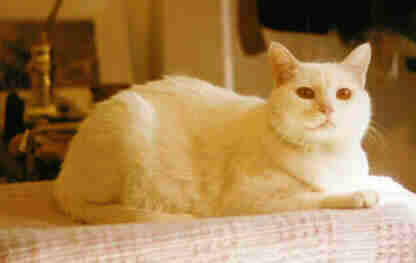 Hello, my name is Ötökkä,You can see me with my mommy on the update page .
I used to be called Ira, but my mom changed my name (Iraís too hard to spell.) Before I went to my new home, Mighty Mutts took me to the vet who said that I am FeLV+. I have the feline leukemia virus, which just means that I may get ill more easily than other cats. Mom keeps me very healthy with good food, vitamins plus lots of TLC. Aside from testing positive, Iím like any other cat, healthy, playful and full of energy! Mighty Mutts has many more cats like myself, who have tested positive for FeLV or FIV, feline AIDS, but, are purrfect in every other way!
Our infection is not tranferrable to humans, dogs, or any other animals,
FIV IS ONLY TRANSFERRABLE TO OTHER CATS!
Our ideal home would be:
a first time cat owner, a pet owner with no other cats,
or a home with other positive cats.
You can adopt on of us as long as you don't have any other uninfected cats! Please take a look at us and ask Mighty Mutts about their other FIV and FLV infected cats.