Hi, I'm Boggie (formerly Big Boy) and I'm the very proud daddy of Good Boy and Jolly (don't mind the make-up, you know kids today!) You see, I was a very street smart dog and led John around for two years before I let him catch me. I was having fun! But I'm also real smart and after I sowed my wild oats I knew it was time to settle down and get a job, so I moved in with John and helped him run the kennel for a while.
Big Boy
(The Proud Papa!)
Then a wonderful lady came along and adopted me! You see this is a family affair in more ways than one because she had adopted Lenny, one of the very first Mighty Mutts! Lenny has since passed on and both John and myself want to thank my new mommy for all of the love and firendship which she gave to him and is giving me now!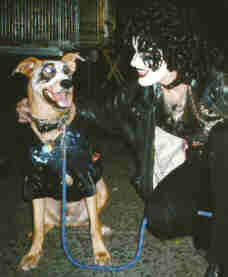 Jolly
I'm Jolly and I really am! Don't mind the picture, that was taken at Halloween. The brown fur is really a costume. Although I had a great dad, I wasn't always the life of the party. In fact I was painfully shy when Mighty Mutts found me. But they gave me lots of love and my mommy gives me lots more and now I'm the life of the party that you see here today!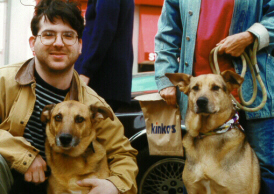 Almost a reunion!
Goodboy (left) and Bigboy (right)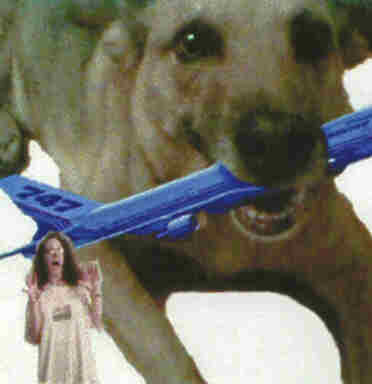 Good Boy
John may not sometimes score points on originality as far as names go but at least they always fit! My dad is 85 lbs., my brother is happy go lucky and I'm..., well you get the picture (even though, as you can see, I'm still big enough to cause mischief!). My brother's the party animal, literally, and I'm the star pupil. I was always the best kid in the kennel and my parents are sproud of me they even gave me my own web page!